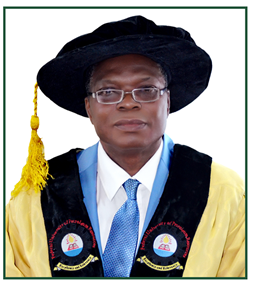 Prof. Akaehomen Akii Ibhadode
B.Eng (University of Lagos), M.Eng (University of Benin), PhD (University of Birmingham)
Designation: Vice Chancellor
Office/Department: Vice-Chancellor Office
Specialisation: Manufacturing Engineering
Scholarly/Professional Summary
Professor Akaehomen Okonigbon Akii Ibhadode was appointed the third substantive Vice-Chancellor of the Federal University of Petroleum Resources, Effurun by the Council of the University at its 29th meeting held from April 14-15, 2015. His appointment followed the exit of Prof. John Etu-Efeotor, who voluntarily resigned his appointment on health grounds with effect from April 1, 2015. Prof. Ibhadode assumed duty on May 4, 2015.

Born September 13, 1957, Akii Ibhadode is an erudite and distinguished Professor of Production Engineering from the University of Benin. A 1987 Doctorate degree holder in Mechanical Engineering from the prestigious University of Birmingham, United Kingdom. A scholar of no mean repute, Prof. Ibhadode was the 2010 winner of the Nigeria Prize for Science sponsored by the Nigeria Liquefied Natural Gas Limited (NLNG) for his innovative work titled; "Development of a New Method for Precision Die Design."

He rose to the rank of a Professor in October 1999 at the University of Benin having also begun his lecturing career as a Graduate Assistant from same University in July 1982. This egg-head obtained a First Class degree in Mechanical Engineering in 1981 at the University of Lagos, Akoka. While lecturing at the University of Benin he obtained his Master in Engineering degree in 1984 specialising in Manufacturing Engineering before proceeding on a study leave to the University of Birmingham, United Kingdom for his Ph.D. He has held diverse key positions including Dean, Faculty of Engineering, University of Benin from where he attracted various funds to the University especially to the Faculty.

Prof. Ibhadode who is also a Pastor of the Church of God Mission International hails from Irrua in Edo State. He is married with children.
Other Information
Publications
Journal: Inaugural Lecture Series, 2006
Author: Ibhadode, A.O.A.