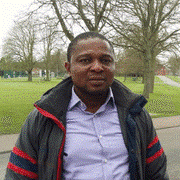 Dr. Mgbemena Chinedum Ogonna
PhD M.Eng B.Eng (UNIZIK)
Designation: Senior Lecturer
Office/Department: Mechanical Engineering Department
Specialisation: Mechanical Engineering Design, Applied Mechanics, Materials Technology
Tel:
Scholarly/Professional Summary
Dr Chinedum Ogonna Mgbemena is a Senior Lecturer in the Department of Mechanical Engineering. He was a Visiting Fellow at the Enhanced Composites and Structures Centre, School of Aerospace, Transport & Manufacturing, Cranfield University, Cranfield, Bedfordshire,United Kingdom between 2016-2017.
He was a Research Engineer at National Engineering Design Development Institute, Nnewi, a design development institute of National Agency for Science and Engineering Infrastructure (NASENI).
In 2012, he was a Research Fellow at National Institute for Interdisciplinary Science & Technology, Kerala, India.
He completed his studies in the Department of Mechanical Engineering, Nnamdi Azikiwe University, Awka, Nigeria.
He was involved in several institutional projects in the United Kingdom and DST Government of India sponsored project on Natural Rubber Composites.
He was recently appointed as the Supervisor, FUPRE Shell Eco Marathon Team.
He is a member of editorial board and a reviewer of some reputable SCOPUS and Thomson Reuters indexed Journals.
His research areas are: Polymer Composites, Modelling and Simulation of manufacturing processes, Terra mechanics, Reverse Engineering of Automobile parts, Computational Mechanics and Failure Analysis.


Other Information