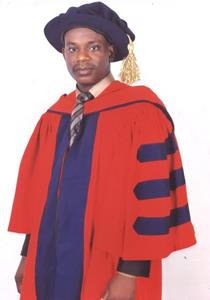 Dr. ALAMINIOKUMA IGONI GODSWILL
B.Sc, M.Sc., Ph.D.
Designation: READER/ASSOCIATE PROFESSOR
Office/Department: Earth Sciences Department
Specialisation: GEOPHYSICS(SEISMOLOGY, PETROPHYSICS, GEOSCIENCE SOFTWARE DEVELOPMENT)
Tel:
Scholarly/Professional Summary
Dr. Alaminiokuma is an Associate Professor of Geophysics, a seasoned Geoscientist and presently the Ag. Director, Academic Panning Unit, Federal University of Petroleum Resources Effurun (FUPRE). He holds a Ph.D degree in Applied Geophysics in 2008 from the River State University of Science and Technology, Nigeria where he lectured for more than a decade before taking up this present appointment with FUPRE. He has worked with the Geosolutions Department, Shell Petroleum Development Company (SPDC), Port Harcourt as a research seismologist, acquiring and interpreting 3-D and 4-D seismic data. He also makes occasional forays consulting on environmental and industrial noise and vibration measurements and analyses for Nigerian Agip Oil Company (NAOC), Chevron Nigern Ltd. (CNL), Fugro Nigerian Ltd. (FNL) and other multinational companies. As a researcher, Dr. Alaminiokuma has authored and co-authored over forty geoscientific publications in local and international peer - reviewed journals. He developed a Geophysical software for the interpretation of Near-surface velocity data. His current research interest includes :Velocity modelling, Near-surface Geophysics, Geosciences software development and petrophysical reservoir analyses for quantifying by-passed hydrocarbon. He is a member of Nigerian Association of Petroleum Explorationists (NAPE), Nigerian Mining and Geosciences Society (NMGS), Society of Exploration Geophysicists (SEG), American Association of Petroleum Geologists (AAPG) and European Association of Geoscientists and Engineers) EAGE). DR. Alaminiokuma is an athlete and loves playing and watching football. At leisure time, he plays Scrabble and Monopoly. He is a writer, an adventurer and a traveler. He is happily married with three children.

Other Information