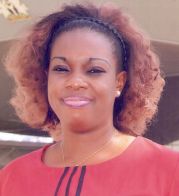 Mrs. Ekuerhare Sylvia Efe
M.sc Sociology (DELSU), MCM (DELSU), B.sc Sociology (DELSU), PGDE (DELSU) DSW (UNIBEN)
Designation: Admistrative Officer
Office/Department: Academic Affairs Division
Specialisation: Administrator
Tel:
Scholarly/Professional Summary


Mrs. Efe Sylvia Ekuerhare is an Administrative Officer in the Academic Affairs Division Unit of the Registry Department of the Federal University of Petroleum Resources, Effurun, Delta State, Nigeria.
She is the first child of a nuclear family. Her administrative skills and ability to handle responsibility began from this position held in the family. Privileged to have come from an educational background, her interest in education developed and grew. This led to her obtaining series of educational qualifications which include; a Master of Science (M.Sc. Sociology), 2015, Post-Graduate Diploma in Education (PGDE), 2005, Master in Crime Management (MCM), 2004 and Bachelor of Science (B.Sc.), 2001 from the Delta State University (DELSU), Abraka. Diploma in Social Works (DSW), 1997 was attained from the University of Benin (UNIBEN), Edo State. Her love for computer knowledge and skills made her to acquire a Diploma Certificate in Computer Science in 1997.
She is a Full Member of the Nigeria Institute of Management (Chartered), 2015, a Member of the Chartered Institute of Public Management (CIPM), Nigeria, 2014 and also a Member of the Administrative Staff College of Nigeria (ASCON), 2004. These professional bodies have immensely contributed to building of her professional and administrative skills through organized seminar, lectures and conferences; these have helped in her efficiency and effectiveness in her work place.
Her work experiences have been achieved from Department of Community Development, Oredo Secretariat, Benin City, Edo State where she was a social worker in 1995; Governor's Office Annex, Warri, Delta State where she was an administrator from 2002-2003 and Delta State Institute of Continuing Education, Warri Zone, 2003-2014 where she performed both academic and administrative duties. After these stretch, she proceeded to the Federal University of Petroleum Resources, Effurun, Delta State where she is an administrative staff till date. Her priorities have been geared towards ensuring smooth running of her department and contributing enormously to the realization of the University goals.
Mrs. Efe Sylvia Ekuerhare is a Christian in the Anglican Communion. She is from Owevwe, Agbarha-Otor in Ughelli Local Government Area, Delta State. She is married with children.
Other Information