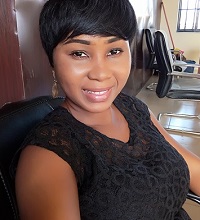 Mrs. Johnson Okomoba Jennifer
OND. Computer Engineering 2007, (Delta State Polytechnic Otefe, Nigeria) HND. Computer Science 2010,
Designation: Senior Technical Officer
Office/Department: Information and Communication Technology Directorate
Specialisation: Computer Hardware Engineering (Maintenence), Basic Networking (CISCO), ICT support.
Tel:
Scholarly/Professional Summary
I'm a simple person who is committed to success and excellence in my field and life in general.
I have vast analytical, theoretical and practical Engineering and Technical skill.
I have a clear and logical mind that enables me apply practical approaches to problem solving and a drive to see things through to completion.
I am self-motivated, creative and adaptable.

Other Information