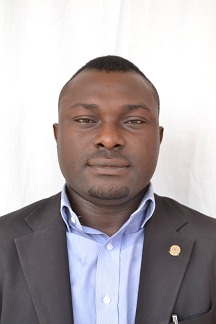 Mr. Onakpoma Oboroghenerukohwo
BSc, CSS, FIIPS, MNIIS
Designation: Senior Security Officer
Office/Department: Security Unit
Specialisation: Protection Officer
Tel:
Scholarly/Professional Summary
The Governing Council of the Federal University of Petroleum Resources, Effurun employed Mr. Onakpoma Oboroghenerukohwo on 24th February 2014 as a SecurityOfficer II and has been promoted to a Senior Security Officer in 2018.
Born onJuly 17, 1984, Mr. Onakpoma Oboroghenerukohwo hails from Ethiope East Local Government of Delta State. He attended Enugu State University of Science andTechnology (ESUT) where he bagged a Bachelor of Science Degree in Food Science and Technology in 2008. He completed his National Youth Service Corps (NYSC) inAbia State in 2011 as a class teacher in Chyvik Model School,Obehie, AbiaState.
Mr.Onakpoma Oboroghenerukohwo holds the Membership of International Institute of Professional Security (IIPS) and subsequently made a Fellow of the Institute in 2018. He also holds Membership of Nigeria Institute of Industrial Security(NIIS), Membership of Association of Heads of Security in Tertiary Institutions(ASHOTI) and a Commander of Royal Ambassador Nigeria (RAN), Providence Delta Conference.
To further sharpen his professional edge, he obtained a Certified Security Specialist (CSS) from Nigeria Institute of Industrial Security and has attendance of security training on several security platforms across the country.
Interestingly,Mr. Onakpoma Oboroghenerukohwo was appointed by the Vice Chancellor Prof. Akii Akehome Ibhadode as the Ag. Chef Security Officer in 2016 to May 2018 having gained years of experience in security.
Other Information
Publications
Journal: Security, 2020
Author: Onakpoma Oboroghenerukohwo
Journal: Security, 2019
Author: Onakpoma Oboroghenerukohwo